Switching from oil to natural gas can significantly reduce your building's energy bills, even as it lowers your carbon footprint.  Today's gas prices are less than two-thirds of the cheapest and highest polluting #6 oil, which is the fuel of choice for the city's large apartment buildings.  Dubbed the "bottom of the barrel" in a scathing report by the Environmental Defense Fund, #6 oil is the subject of a recently adopted New York City code that will effectively ban its use by 2015.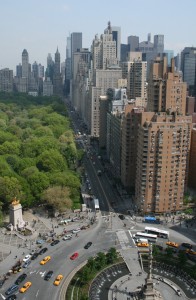 NYSERDA offers the Multifamily Carbon Emissions Reduction Program (MCERP) that grants substantial incentives to buildings with five or more units that convert from #6 oil to cleaner burning heating fuel.  Incentives can total up to $175,000, or 80 percent of project costs. NYSERDA is still accepting building applications for the program's waitlist.
Energy Investment Systems has extensive experience in facilitating oil-to-gas heating system conversions. EIS offers custom feasibility studies that include estimates of a system's useful life, analysis of current fuel bills, and an assessment of cost and savings of conversion from oil to natural gas. A client of EIS, 240 Central Park South, shown at right, is saving 50% on heating costs since converting to natural gas from #6 oil. The saga of gas conversion for another EIS client, The Leonori Condominium on Madison Avenue, is portrayed in Habitat Magazine.
EIS creates a strategic plan for conversion and coordinates with building engineers, Con Edison and property managers on the scope of work for implementation. We oversee project implementation, supervise commissioning of the completed project and facilitate the acquisition of government incentives.
There is no better time to consider switching to a cleaner burning, less expensive fuel source.  Call EIS to talk about impending regulations and the financial and environmental benefits of converting your building to natural gas.